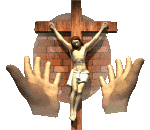 If you know of anyone who might not be able to be with us for Sunday Eucharist because of age or illness please let us know.  Our Pastoral Care Committee would very much like to visit them on behalf of the Parish. As well if any are not presently on our schedule of Holy Communion please let us know and they will be added to our communion list.                                                                                  
Please phone Tracy at the Parish Office (902-423-3057)

Posted in
Uncategorized
Office Hours:
Monday through Friday
8 a.m. until 4 p.m
Contact:
Phone (902) 423-3057
Fax ## (902) 484-6944

Email:
Subscribe to our EBulletins by filling in the form below.
You will automatically receive the Parish Bulletin by Email.
A confirmation email will be sent to your mailbox: please read the instruction inside it to complete the subscription.